PEARCE CREEK DMCF
REASONS FOR REACTIVATION
The US Army Corps of Engineers Philadelphia District (CENAP) is the agency responsible nationwide for dredging navigation channels, including the Chesapeake & Delaware (C&D) Canal. The C&D Canal is an important transit route to and from the Port of Baltimore, one of Maryland's leading economic engines. In 1937 the USACE purchased nearly 1000 acres of farmland bordering Pearce Creek for use as a containment site for dredged material from the C&D Canal approach channels. In an effort to maintain the C&D Canal channels at the authorized depth of 35 feet, the Pearce Creek Dredged Material Containment Facility (DMCF) was constructed on 260 acres of the CENAP property and was used intermittently until the mid 1990's. Since the closing of the Pooles Island open water placement site in 2010, CENAP has desired to reactivate the Pearce Creek DMCF in an effort to meet federal dredged material placement needs. CENAP received the required permits to reactivate the site in 2014, and the DMCF received its first post-reactivation inflow in December 2017.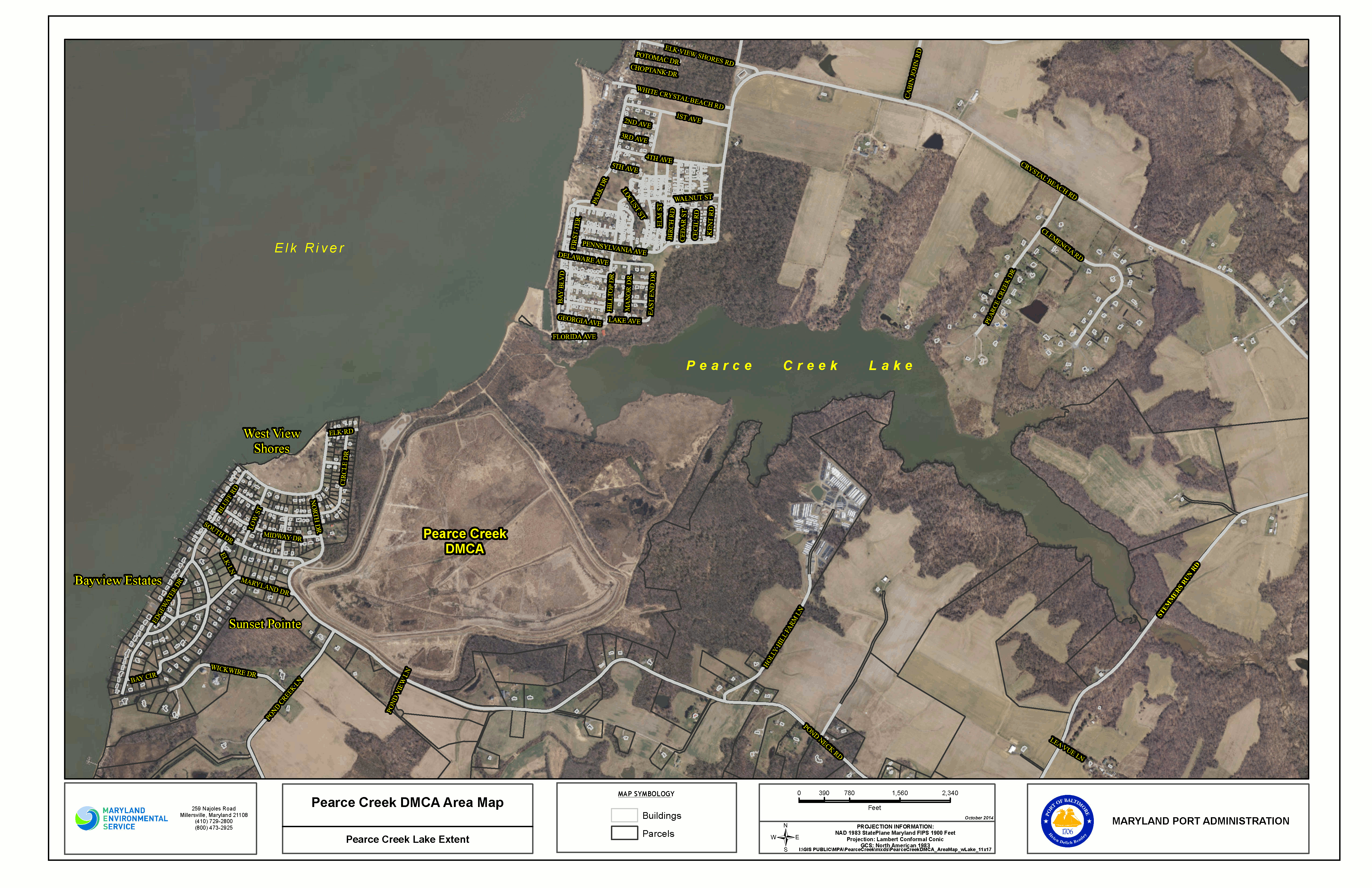 STEPS INVOLVED IN REACTIVATION
The steps involved in the Pearce Creek DMCF reactivation included:
Appropriate amendments to the Cecil County Master Water and Sewer Plan to define the specific service area for the water system and water service provider. The Master Water and Sewer Plan was approved by the Cecil County Council on January 20, 2015, which included nineteen (19) conditions. The Cecilton component of the Master Water and Sewer Plan was approved by MDE.
Section 401 of the Clean Water Act requires the State of Maryland to issue a Water Quality Certification (WQC) for any federally proposed/permitted projects which will result in a discharge to jurisdictional wetlands or waters of the State. CENAP submitted a WQC permit application to the Maryland Department of the Environment (MDE) which was approved on December 19, 2014. The WQC application included engineering designs for the installation of a liner covering the entire DMCF area to fulfill MDE's requirement that there will be no further degradation of the groundwater. Additionally, MDE advised CENAP that they would not receive a WQC permit without a plan to address the drinking water issue, which was satisfied by the construction of the public water supply system.
The approval of the original WQC permit allowed CENAP to proceed with installing a liner to cover the entire site in an effort to protect the surrounding area against future contamination problems. Construction of the liner began in April 2016 and was completed in mid-2017. The CENAP developed a groundwater monitoring plan to detect potential changes in groundwater within a close vicinity to the Pearce Creek DMCF. Additionally, MDE approved the discharge monitoring plan for the Pearce Creek DMCF in fall 2017.
The site began accepting dredged material under the reauthorization in fall 2017.
Liner 101: Learn more about the liner and the installation process.
Back to Top