Groundwater Monitoring 101
As required by the MDE-issued WQC, CENAP has developed a Groundwater Monitoring Plan to monitor potential changes in groundwater quality resulting from the installation of an impermeable liner which is designed to mitigate the effects of future and past dredge disposal at the Pearce Creek DMCF.
The Pearce Creek Groundwater Monitoring Plan will include the collection of groundwater samples (chemical analysis) and groundwater level data in the Magothy, Upper Patapsco Shallow, and Upper Patapsco Deep aquifers. A total of 37 monitoring wells and 5 piezometers are included in the Groundwater Monitoring Plan. The study area consists of Pearce Creek DMCF and up to approximately 0.5 miles outside the DMCF perimeter. For more information, please see the MDE-approved Groundwater Monitoring Plan
.
Samples will be tested for:
Total Metals: Aluminum, Arsenic, Beryllium, Cadmium, Calcium, Iron, Lead,Magnesium, Manganese, Nickel, Potassium, Sodium, and Zinc
General Chemistry Parameters: Alkalinity, Total Dissolved Solids, Total Suspended Solids, Fluoride, Chloride, Bromide, Sulfate, Nitrogen (nitrite and nitrate), Nitrogen (nitrate), and Nitrogen (nitrite)
Radiologic Parameters: Radium 226, Radium 228, Gross Alpha, and Gross Beta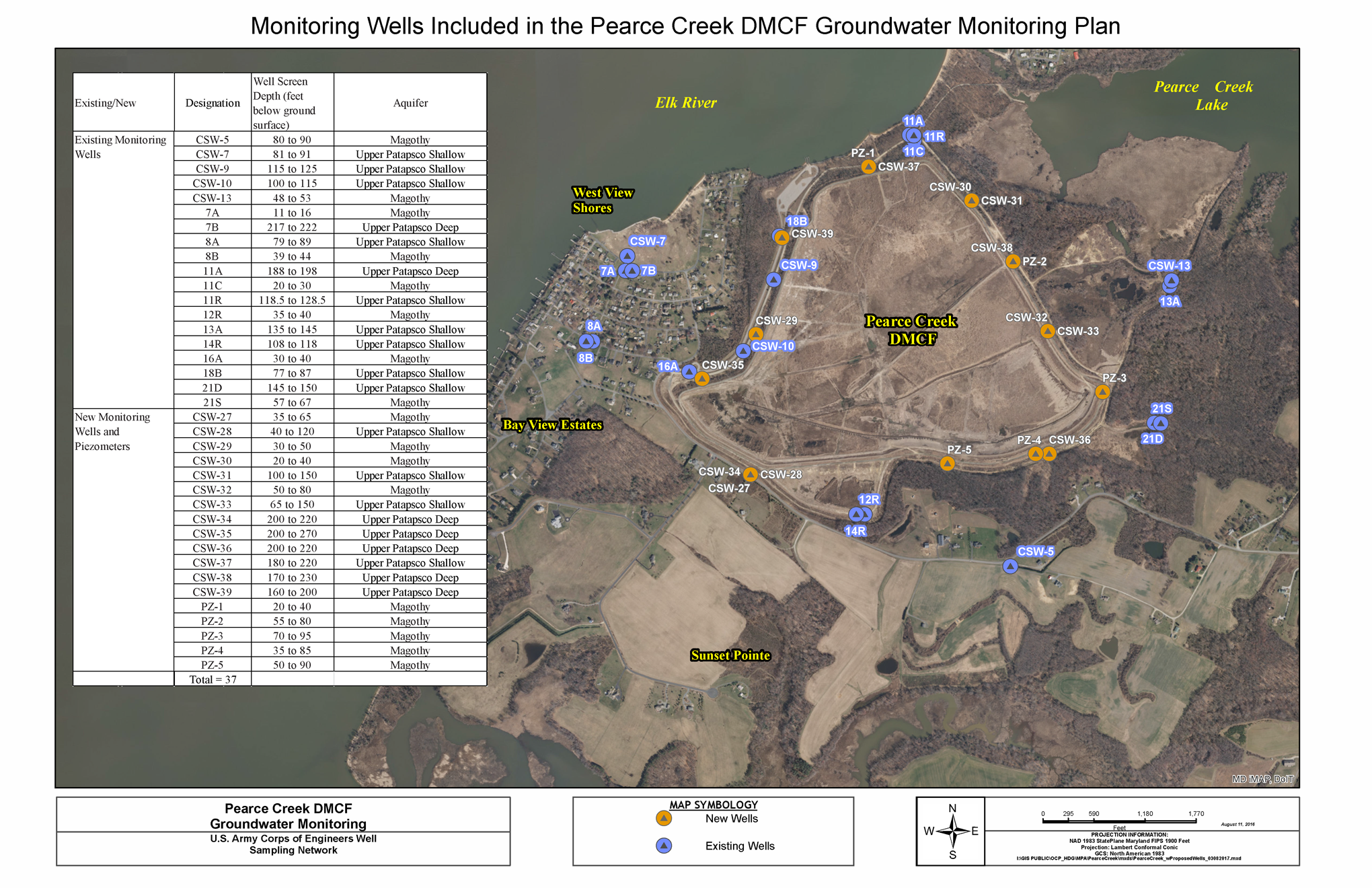 Back to Top