BACKGROUND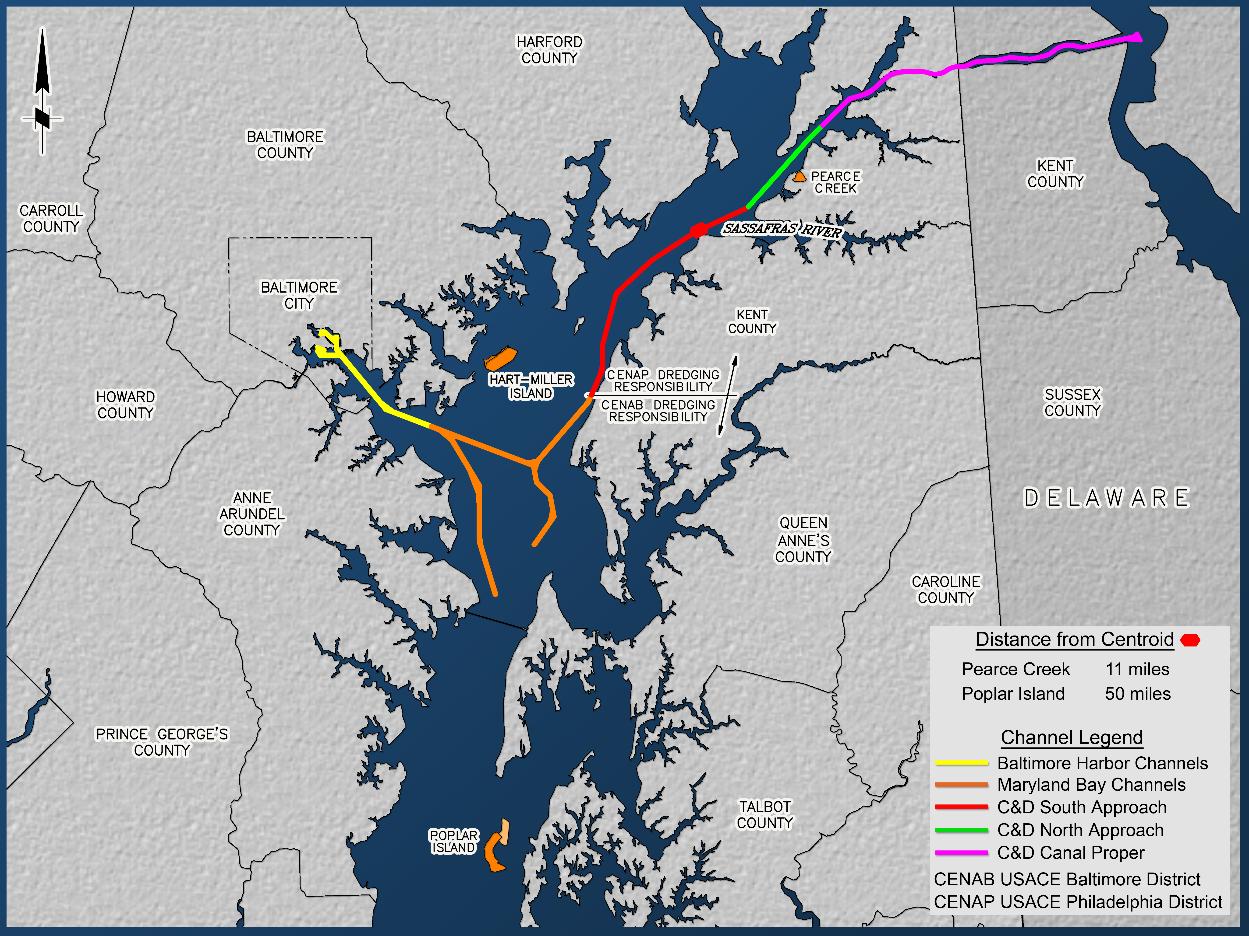 The US Army Corps of Engineers Philadelphia District (CENAP) is the agency responsible nationwide for dredging navigation channels, including the Chesapeake & Delaware (C&D) Canal. The C&D Canal is an important transit route to and from the Port of Baltimore, one of Maryland's leading economic engines. In 1937 the USACE purchased nearly 1,000 acres of farmland bordering Pearce Creek for use as a containment site for dredged material from the C&D Canal approach channels. In order to keep the C&D Canal channels at the authorized depth of 35 feet, the Pearce Creek Dredged Material Containment Facility (DMCF) was constructed on 260 acres of this property and was used for dredged material placement intermittently until the mid-1990's. Since the closing of the Pooles Island open water site in 2010, the CENAP desired to reactivate the Pearce Creek DMCF. The CENAP received the required permits to reactivate the site in 2014, and the DMCF received its first post-reactivation inflow in December 2017.
COMMUNITY INVOLVEMENT
As the communities around the site grew over the years, concerns were raised about whether the site was contributing to poor water quality in domestic wells, which many homeowners have experienced. In January 2013, the US Geological Survey (USGS) released a report commissioned by CENAP, which identified a missing or thin confining clay layer beneath the Pearce Creek DMCF that has allowed degraded water to enter the aquifers underneath the DMCF. The study also found that migration of this groundwater, which moves very slowly, has gradually impacted the water quality in some residential wells in the communities of West View Shores (WVS), Bay View Estates (BVE), and Sunset Pointe, as well as homes along Pond Neck Road adjacent to the Pearce Creek DMCF. Community leaders from WVS, BVE, and Sunset Pointe have met regularly with representatives from the Maryland Department of Transportation Maryland Port Administration (MDOT MPA) and CENAP. These initial meetings focused on solutions to the domestic well water problems the communities are experiencing as well as what should be expected when the site is reopened for dredged material placement. Community leaders visited other active MDOT MPA placement sites to observe how DMCF sites are managed. A number of public events have been held to inform residents about the project and listen to their questions and concerns as the project progresses. Public bi-monthly Implementation Committee meetings are also held to provide an open forum for all residents and interested parties to receive project updates.


Economic Impacts of the
Port of Baltimore (POB)
Cecil County
In 2015, the POB identified 13,650 direct jobs that were generated by port industrial and marine activities. There are another 15,890 jobs induced as the individuals in the "direct jobs" spend their wages on goods and services, such as food, housing and clothing. Also, there are an estimated 4,380 jobs indirectly created by the maritime firms and industries that purchase goods and services, such as utilities, office supplies, or maintenance. These induced and indirect jobs are sometimes referred to as secondary or ripple effect jobs. In total, there are over 33,920 jobs in Maryland that are generated by Port activity. This activity produced $3.0 billion in total salaries; and $310 million in state and local taxes.
Cecil County's Share of POB Direct Employment
There are an estimated 25 companies and individuals located within Cecil County that use the Port of Baltimore for international shipping.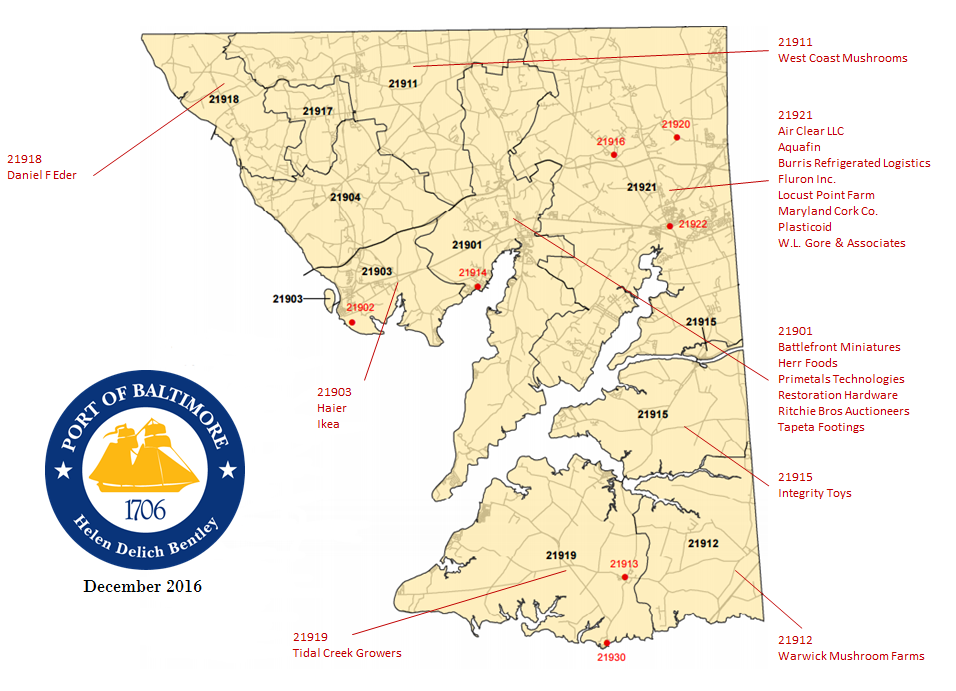 CECIL COUNTY COMPANIES EXPORTING AND IMPORTING VIA THE PORT OF BALTIMORE (2016)
| COMPANY | LINE OF BUSINESS |
| --- | --- |
| AIR CLEAN LLC | CERAMIC MODULES (IMPORT) |
| AQUAFIN INC | CHEMICALS (IMPORT) |
| BATTLEFRONT MINIATURES | TOYS/GAMES (IMPORT) |
| BURRIS REFRIGERATED LOGISTICS | FROZEN FOOD (IMPORT) |
| DANIEL F EDER | LOGS (EXPORT) |
| FLOURON INC | BOXES & HARDWARE (IMPORT) |
| HAIER | APPLIANCES (EXPORT) |
| HERR FOODS | FOOD (EXPORT) |
| IKEA | HOME FURNISHINGS (IMPORT) |
| INTEGRITY TOYS INC | TOYS (IMPORT) |
| LOCUST POINT FARM | PACKAGING MATERIAL FOILS (IMPORT) |
| MARYLAND CORK CO INC | CORK (IMPORT) |
| PLASTICOID CO INC | LIDS/CAPS (IMPORT) |
| PRIMETALS TECHNOLOGIES | ROLLER BEARINGS (IMPORT) |
| RESTORATION HARDWARE | HOME FURNISHINGS (IMPORT) |
| RITCHIE BROS AUCTIONEERS | MACHINERY (EXPORT) |
| TAPETA FOOTINGS INC | FIBER (IMPORT) |
| TIDAL CREEK GROWERS | PLASTIC POTS (IMPORT) |
| WARWICK MUSHROOM FARMS | CLIMATE SYSTEM MATERIALS (IMPORT) |
| WEST COAST MUSHROOMS | MACHINERY (IMPORT) |
| W L GORE & ASSOCIATES INC | FIBERS (IMPORT) |
Back to Top